Pipe Lining - Trenchless Sewer Repair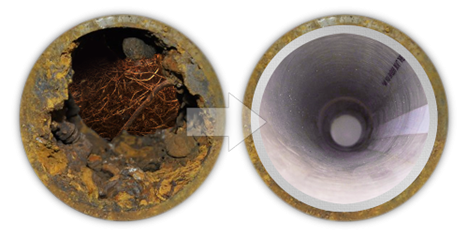 Before and after Pipe Lining
Pipelining, or Pipe Relining, is a trenchless process for refurbishing the insides of corroded, cracked, or otherwise damaged lateral sewer lines with an epoxy liner. 
We can reline the sewer pipe with our Cured In Place Piping (CIPP) from your home to the city sewer main without excavation or digging up your basement, slab, floors, yard, landscaping, driveway, or roads. CIPP has been in use since 1971 and is used by many cities to reline their city sewer system.
Most pipe lining repairs are performed and completed in one day to minimize disruption to your home or business.
Start with a Sewer Inspection
We will first perform a camera inspection to see if pipe lining is necessary and the best solution for restoring your sewer line to better than new working conditions. You and the drain technician will be able to observe the entire length of the pipe. Problems including corrosion, cracks, offset pipe joints, tree root invasion, collapsed sections, or objects jammed in the pipe all need to be evaluated to determine if pipe relining is possible or even necessary.
Pipe Descaling
If your home was built before 1980, you likely have clay or cast iron pipes.  Even newer homes may have a PVC pipe that transitions to an older pipe before reaching the city sanitary sewer. If you have pipes made of cast iron or sometimes other materials like copper or concrete, they will need to be descaled before they are relined.
The video inspection will determine the types of pipes and their condition. An inspection after descaling may find that pipe lining is not necessary. Learn more about Cast Iron Pipe Descaling. 
Note: Inflow and Infiltration Inspections
If groundwater seeps through openings into a home's or business's sewer line, it unnecessarily strains the city's sanitary treatment facilities. Some cities sometimes require inflow/infiltration or I&I inspections before a home can be sold.  If leakage problems are found pipelining may be the best solution.
Examples of Minnesota cities that require sellers to have an inflow/infiltration inspection to check for excess flow of clear water into the city's sewer system include:
If an inspection finds any leaks, the city will require that the problem pipe is replaced or relined.  We are authorized to do I&I inspections.
READY TO GET STARTED?
Get in touch with us to have your sewer line inspected to determine if it is a candidate for pipelining.  To schedule a video inspection and learn more, call General Rooter LLC at 763-634-2564 for the Minneapolis & St. Paul Metro area or call General Rooter of Southern MN at 507-550-2564 for pipe descaling in Southern Minnesota.